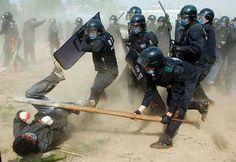 Excessive Force
The Law Office of Do & Associates represents clients that have suffered at the hands of law enforcement officers from the use of excessive force. In certain circumstances, law enforcement officers exceed their authority
in the exercise of their duties
. If you feel that you have been a victim, it is important that you seek legal advice immediately to protect your rights and preserve all evidence.
In California, law enforcement officers are generally permitted to use reasonable force. This authority is detailed in Penal Code § 835a, which states in relevant part:
"[a]ny peace officer who has reasonable cause to believe that the person to be arrested has committed a public offense may use reasonable force to effect the arrest, to prevent escape or to overcome resistance."
Whether or not a law enforcement officer has used excessive force is determined on a case-by case basis. Some of the factors to consider in evaluating the force include:
The severity of the crime at issue

Whether you posed an immediate threat

Whether you were actively resisting arrest

Whether you were evading arrest
If you feel that a law enforcement officer has exceeded the use of reasonable force against you, contact Do & Associates immediately to determine your rights. A claim may exist against the individual officer, the officer's department, as well as the city, county or state. It is important to secure your rights in order to avoid missing critical deadlines.
Contact our office for a FREE CONSULTATION and to learn how we can help you.
DISCLAIMER: The information provided herein does not constitute legal representation or legal advice. ​