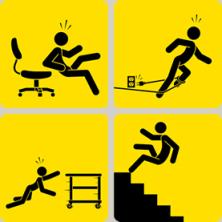 When you think about slip & fall accidents, the first thing that might pop into your mind is someone slipping and falling on a wet floor in a restaurant, or a banana peel in a supermarket. Actually, that's not too far from the truth. The majority of slip & fall accidents do occur in restaurants, supermarkets, and other commercial properties.
Unfortunately, more often than not, these slip & fall accidents are cast aside as frivolous claims. That is why it is imperative that you contact Do & Associates immediately for a free consultation. At Do & Associates, we will help you determine if you have a valid claim for your injuries.
Negligence
According to the California Civil Code 
Section 1714(a), which states in pertinent part:
"Everyone is responsible, not only for the 
result of his willful acts, but also for an injury 
occasioned to another by his want of ordinary 
care or skill in the management of his or 

her 
property or person...."
Where the accidents can occur
The following are a few of the common areas where slip and fall accidents may occur.
WHAT TO DO IF YOU ARE IN AN ACCIDENT
Call 911 for medical emergencies.

Obtain contact information from eye witnesses before they disappear.

Take photos of the accident scene before anything is moved or lost.

Make incident report if necessary.

Do not admit liability. Attempt to obtain admissions of liability from other party via written statement, audio or video recording.

Take photos of personal injuries.

Contact us immediately for a FREE CONSULTATION and to protect your rights.
DISCLAIMER: The information provided herein does not constitute legal representation or legal advice. ​